Small Works : Creative Arts Society
October 5-28, 2018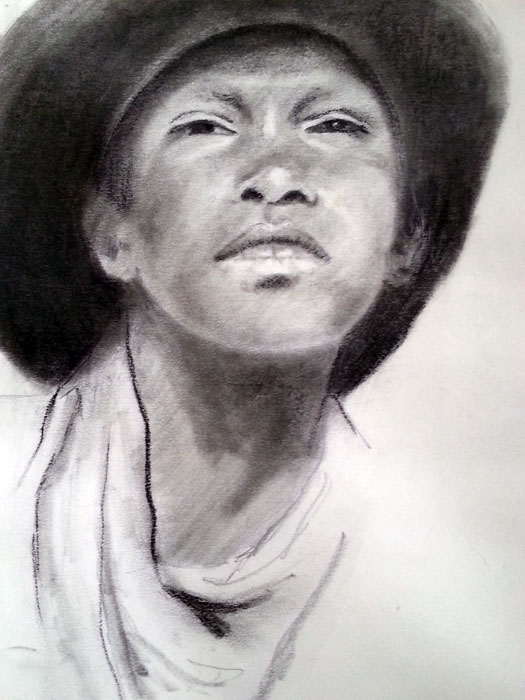 Kathleen Bogan: Untitled Boy
Alicia Philley: Sunrise on the Creek
Philley believes that color is pure energy. It has the power to affect our mood, transform our experiences and evoke the physical memories of a time or place in our lives. Her acrylic paintings are a mix of abstract expressionism and op-art. She's developed a style of masking-taped lines that swerve and layer over and under each other. They play tricks on the eye, silly little games really. Her current series flows out of time spent at creeks around Austin and the Hill Country with her children and friends. The hues draw her back to the creek water, the hazy sky at sunrise and sunset, the intense heat and cooling breezes.
Lisa Zinna: Reflect
To create contemporary photo art, Lisa Ziemba Zinna reworks a digital image in whatever way feels honest for the subject she's captured. In the minimalistic scene, "Reflect", subtle blurring and overexposure redirect the focus onto the beach crowd as a whole, and suddenly chaos shifts to quiet and contemplative.
Jane Fier: Brilliant Autumn
Monotype printmaking is a process which uses a combination of painting and printmaking techniques. It results in a one-of-kind image that is developed on a flat, smooth surface. Fier uses plexiglas as her substrate and paint with water-based mediums and then transfer the painting to printing paper. The transfer can be done by hand or press. Fier does all her transfers by hand on Rives BFK printmaking paper.
Mary Barton: The Ocean's Moon
Barton says: "Art has always been my therapy. Whether working through difficulties, or celebrating accomplishments... it has to remain the balance in my life. The motion and progression that each piece of art produces, as it's being produced, is a catalyst to maintaining my sanity. Simply put, without art -- I most likely would go crazy!"
Brenda Armistead: ATX Parakeet
Armistead has loved clay for 40 years, and it has usually loved her back. Her work leans into natural and whimsical themes.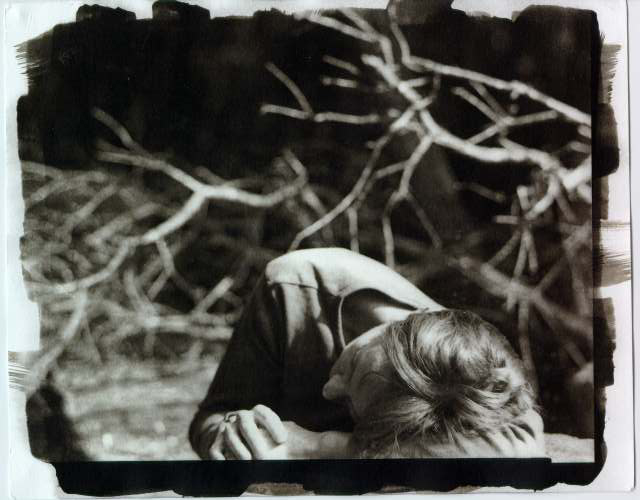 Terese St. Arnauld: Resting on a Table
These residents of Austin collaborate to process and print all their black & white and platinum work and some of their digital photography. A love of travel, even around Austin, has inspired much of this couple's work, which has been shown in Austin, around Texas and the US, including participation in FotoFest 2010, and annually, during the WEST Studio Tour.
This image was taken during a visit to Mayfield Park, using a large format camera (cloth over the head). They especially liked the detail in the foreground figure and the slightly blurred branches in the background of this platinum print.
Kathy Berke: I Want You Blue
Berke is a native Texan and has lived in Austin most of her life. Through various travels she has been inspired to paint minimalistic and tonal land and seascapes. She loves the beauty and expansive mystery of the sea and sky and hope to convey mood over form. Much of her art is acrylic but she also loves pen and ink. She is self-taught through studying the work of amazing artists such as Jim Seitz and Adam Hall.
Charlotte Clark: Afternoon Nap
R J Armstrong: Rising Up of the Mangrove Swamp
Working outdoors between a garden bed and a chicken coop, Armstrong uses time, weather, and organic matter to create encaustic and oil abstract work. Intense weathering and repeated building/destruction of the surface captures time in passing, simultaneously degrading notions of a proper picture plane and gently mocking the cult of the image. These are not paintings, these are temporal objects.
Denise Elliott Jones: Always
Jones has been working with a visual vocabulary of shapes that tell a universal story. Painting, printmaking, and mixed media are Jones' primary creative processes. She tries not to have any predetermined outcomes but see where the work will take her.
Cristina White Jones: Just Breathe
White says: "Experimental, intuitive, and emotional. I am influenced and inspired by everything around me. In particular, nature, color, textures and the physical pain that I endure on a day-to-day basis all play a significant role in my work. I work with several different types of media, and love to experiment with "avant-garde" methods of layering and laying down different types of paint and textures. I love pushing the limits to see what new things I can do with it. In the end, I strive for a balance throughout the piece, if I've managed to create that, then I feel like I've had success."
Alicia Philley: Creek Water
Denise Elliott Jones: Be Still
Beverly Dennis: Park Study
Lyle Adair: Soul
Adair is an award winning artist who has been sculpting copper for close to 20 years. His sculptures comprise free standing, inlays, overlays and wall hangings. The essence of his artwork comes from ideas and the world around. Soul Part 1 is an interpretation of the spirit within us all. It is shaped roughly like a hour glass and ebbs and flows like our body. The outside is rough and dark while the inside is smoother and brighter. Our thoughts and actions are what polish our soul. Every so often, you can get a glimpse of someone's soul because of the light it radiates to the outside of their being. This piece is only part 1, as to suggest it is only one interpretation and others, perhaps completely different, may one day follow.
Denise Elliott Jones: Stay
Eva Sim-Zabka: Meet Me where the Poppies Grow
Ginger Grasley: Homegrown Fender
Grasley says: - My art explores the intimate relationship between visual arts and music. I create paintings of significant musical instruments placing them in situations that represent the musical style and energy of their fans, pop-culture of the times and other idiosyncrasies associated with the musician. By combining an energetic use of color and metal I capture both the raw energy and power of the subject instrument.
Helen Buck: Frozen Brook
Buck says: Observation and intuitive response to a visual stimulus, that thing that rouses activity, energy, and emotion, are the two main contributing factors to a successful execution of meaningful art.
By observing the relationships of color, value, shape, and texture, I work to create images very different from how most people look at the world. Surrounding and immersing myself in the observation and execution of a painting in rich color, from subtle to impactful value shifts, tactile qualities, and illusive, ethereal shapes."
Joy Timmons: It's the Berries
Linda Montignani: Observation
This is from Montignani's series is "Spaces". It is based on the inner workings of the mind, heart and spirit, and their connection to place. Her process of working takes the form of a pendulum at times. It swings back and forth between the study of Nature, Her color and composition, and intuitive expression from within herself, which sometimes takes a more mystical form. Having practiced meditation for more than half her life, when she immerses herself in the creation of art, it also becomes a process of meditation. When working in silence and connecting with that deepest part of herself, allowing images to arise as they will, diverse and surprising compositions result, sometimes containing both Nature and intuition both.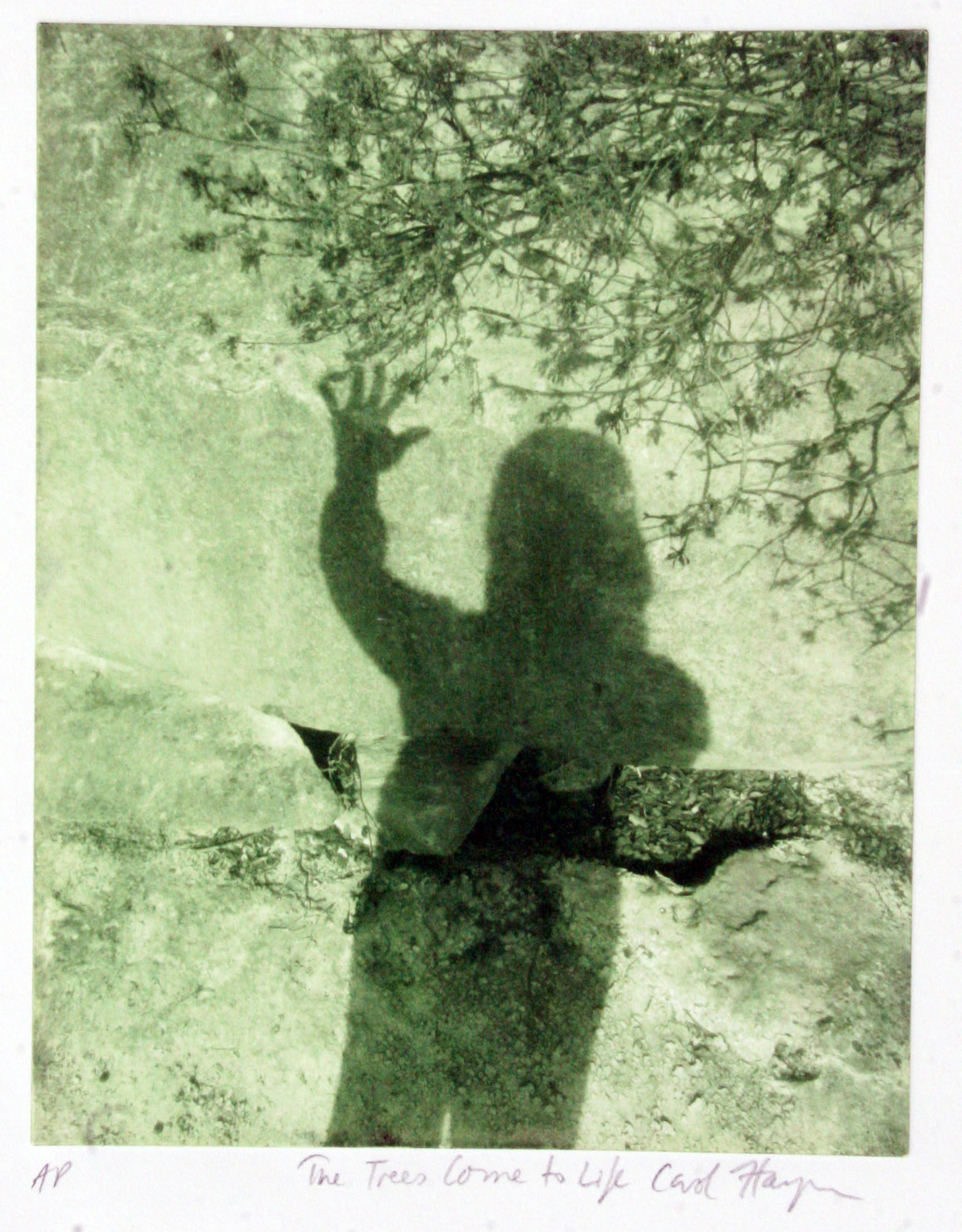 Carol Hayman: Trees Come to Life
Hayman, photographer and printmaker, lives in Austin, Texas where she is a Professor of Anthropology at Austin Community College. She prints at Slugfest Print Studio, where her photographs become fine art prints or photo etchings, using polymer plates and an intaglio French Tool press. Currently her work is about the Devil's River desert country was where Paleoindians made their home, in rock shelters or on bluffs. Their mythological world is still part of us.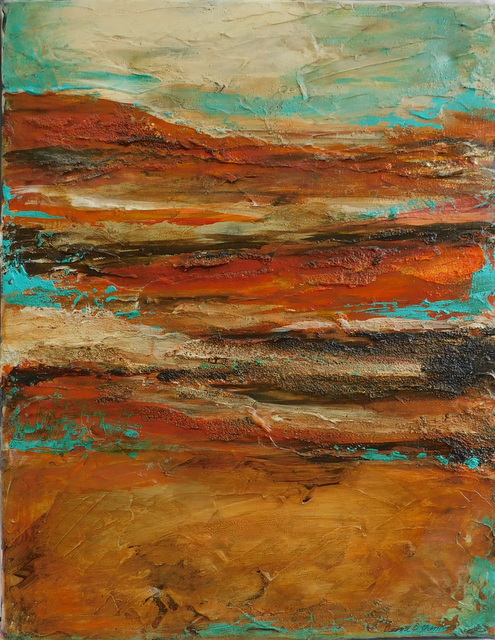 Deena O'Daniel:Journey Sense of the Desert Hills
O'Daniel is a mixed media and acrylic artist based just outside Austin. As a self taught artist, she learns from studying the work of artists whose creations she admires. She's always looking for new inspirations.
Jane Fier: Crowns of Gold
Larry Thoren: Untitled Construction2
Gina Patino: Delicious
Patino says: I'm a retired teacher but I'm still in education. When I'm not a substitute teacher I'm an artist. This Little Werk of Art looks great in the kitchen.
Jan Pomeroy: Yellow Poppy
Pomeroy says: For me creating art is something I have to do. I love to create pieces that would bring peace and beauty to a space. Using non-traditional materials like texture paste, metallic paints with patina, art papers, ink, acrylic paints, foil, found objects and more. I put together mixed media creations on gallery wrapped canvases that are nature inspired abstracts with a sense of mystery. Rich colors and metallics and textures are incorporated into these paintings.
It is an amazing thing to produce a painting that someone is drawn to and has a deep emotional response to it. Art brings life to people that they may never encounter otherwise. Art is healing on many levels-spiritual, emotional, physical.
Kathleen Bogan: Boy with Bowl
Maggie Miller: You fill Up My Senses
Lisa Hollins: Angel Squared
Mozelle Marks: Trip to Market
Marks says: I feel art is a universal language that expresses the cultural richness and diversity in our world. I have had the opportunity for many years to travel to Mexico and especially San Miguel de Allende. The historical town with it's vibrate colors and spirit of the people is an inspiration to my art.
Maria Lyle: Lilly
Maria Lyle spent her early youth in Dhahran, Saudi Arabia and lived there with her expat family. She grew up in a family as diverse as her experiences. Her Texan father meeting her mother in Madrid Spain and eloping to Casa Blanca then flying to Saudi Arabia to start a family there. It was her mother who first noticed Maria's artistic skills, saying that she always knew Maria would become an artist when she first saw her drawing her brother. From those early years through to high school, where she would be the go-to person if anyone needed any artwork created, her love of drawing and painting became her passion and an integral part of her life. Maria lived and traveling extensively in Europe and attending school in Geneva, at eighteen she returned to the United States to study. Maria received her BFA at the University of North Texas. She also attended and received an Associate's Degree in Illustration and Design from the Colorado Institute of Art. Maria has been teaching art classes at Austin Community College for 19 years. Maria adds strong design aspects in her art works that can be seen in her stylized pastels of women images. Lempicka and the art deco period influence her unique style in these pastels. Her prolific art works include nudes created at the life drawing studio, painted animals, impressionistic landscapes of brilliant colors and her florals of impasto painted flowers. Maria's extensive portfolio focuses on pastels; other mediums include oils, watercolors, acrylic, charcoal, pencil, and pen and ink.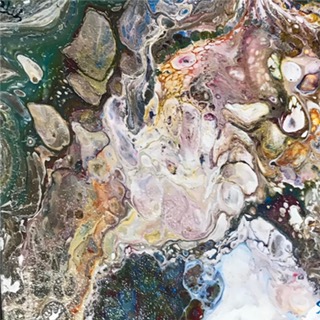 Marilyn Rodriguez: Ocean Floor Beauty
I have always had a great love for art, be it painting, photography,
sculpture, etc. I am a contemporary, abstract artist living and
working in Austin, Texas. Over the years, I have had the opportunity
to travel and visit art museums, galleries and art centers in North
America, Europe and the South Pacific. In 2005, I began training to
become a painter at the Dougherty Art Center in Austin. From there, I
continued my education with private instruction, workshops, seminars
and personal exploration.

My paintings are heavily influenced by the natural world around me.
Oftentimes, the form and color of a subject will spark my imagination
to produce a totally new creation reflecting color, emotion and
movement in my art. My paintings are continually evolving, reflecting
the process that is part creativity, part chemistry and a dash of
serendipity. I encourage the viewer to search for their own special
meaning and make new discoveries along the way.


Shruti Mehta: Burbank
Shruti Mehta is an emerging artist. She has passion for painting ethnic women in the beauty of humble moments in life. Shruti also has a frenzy to wander around new lands and bring to her canvas the distinctive characteristics of these regions she visits. Shruti is a yoga teacher and a student of Sanskrit language. Some of her paintings have the influence of eastern philosophy.
Theresa Schlossberg: Arkanis
Theresa Schlossberg loves working out of her home studio near Lake Travis surrounded by nature. In her studio, she creates dynamic abstract works full of texture and utilized vibrant color. Each work draws from her surroundings, past experiences, passions, and quest for continued artistic exploration. "Arkanis" brings together the aforementioned to create a tactile and visual depth while drawing upon nature for inspiration through abstraction.
Mary Schwindt: Venice Reflections
Schwindt graduated from the University of New Mexico with a Fine Arts degree and has been an avid photographer ever since. This photograph is one of many she took during a 2018 trip to Venice where there were beautiful images around every corner.
Scott Paxton: Mariachi Blues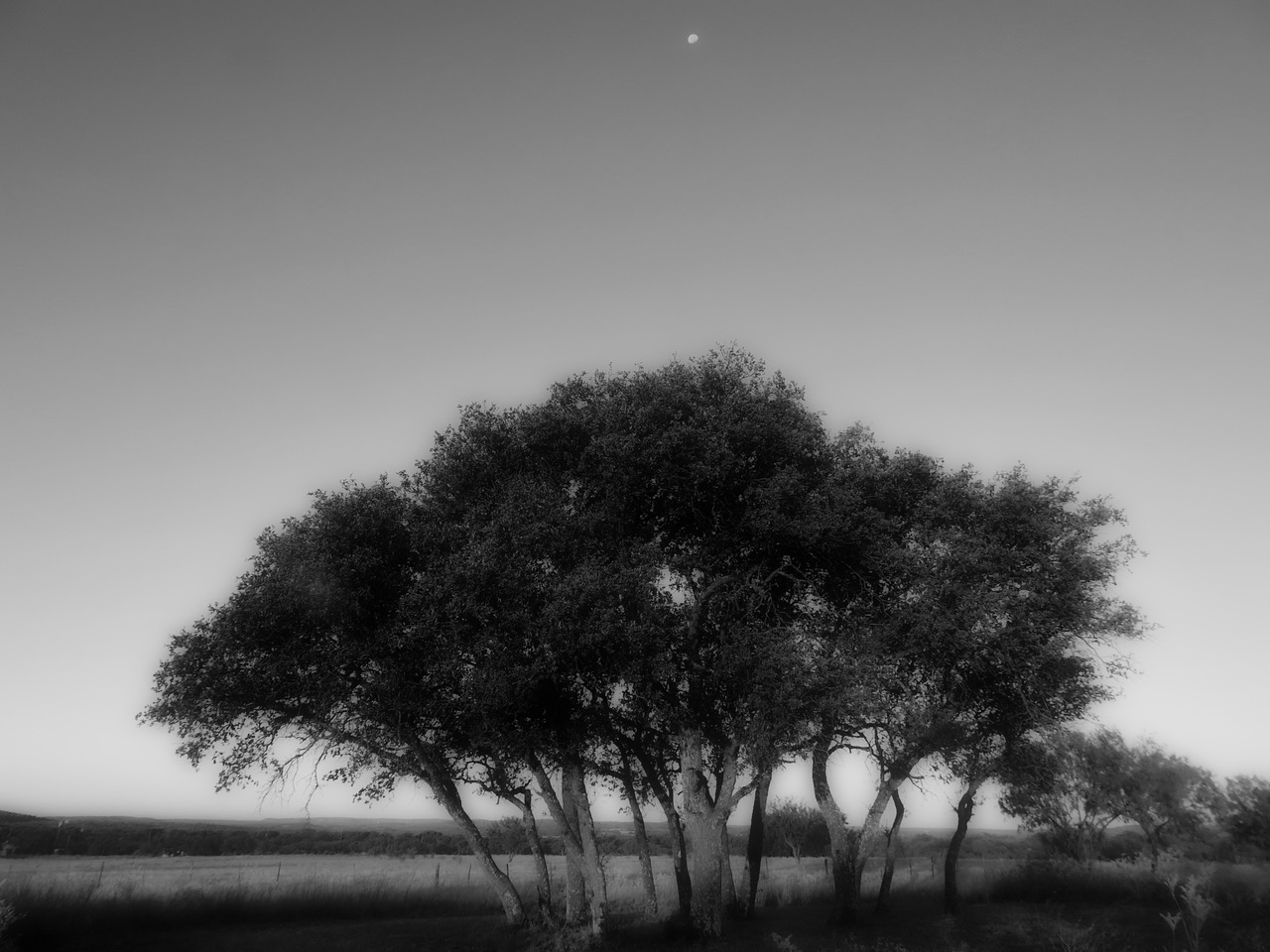 Joy Timmons: Don't Let the Cats In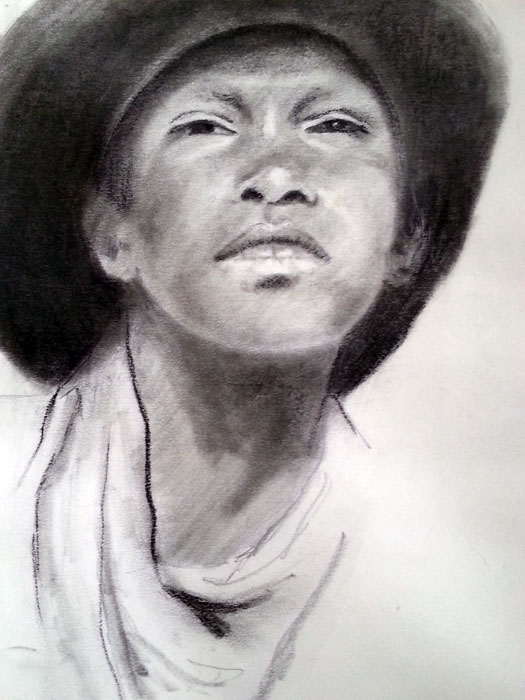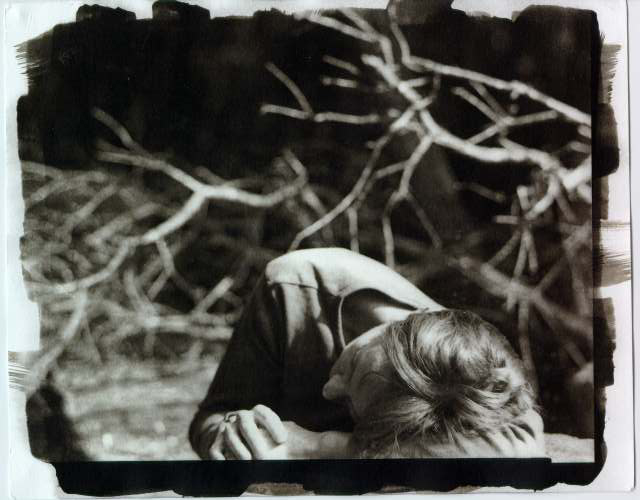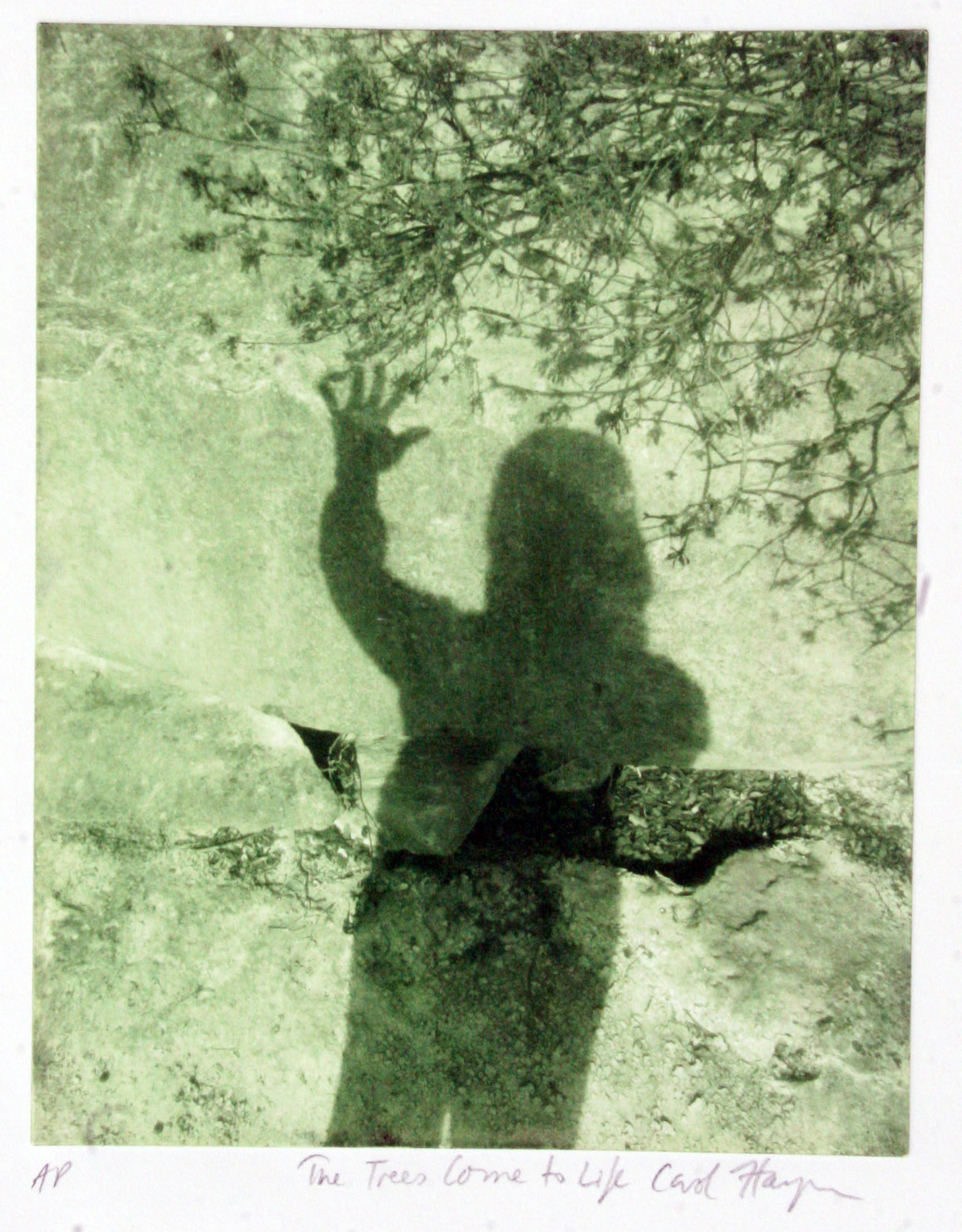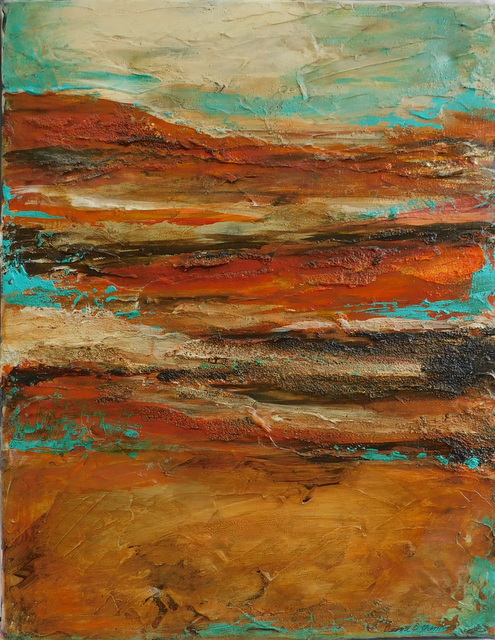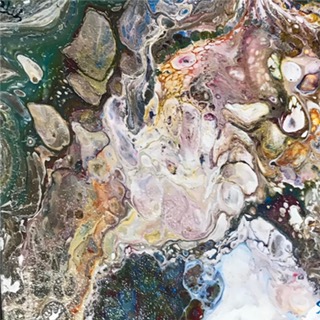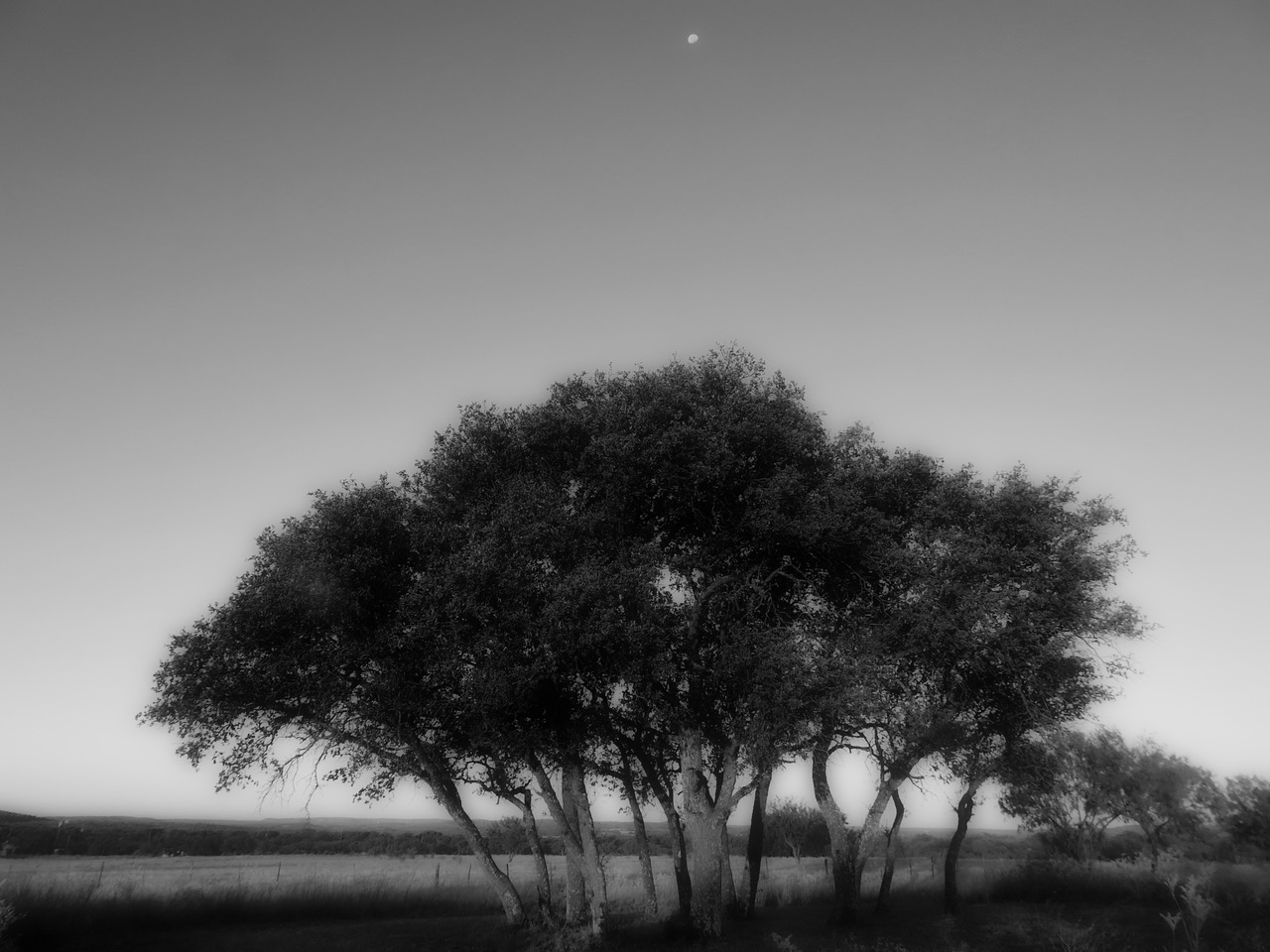 Reception Friday October 12th, 2018 6:00 PM- 8:00 PM
A fine art exhibit featuring a diverse collection of works in various mediums by members of the Creative Arts Society.
Juror: Selene Bataille- Gallery Curator for the Bass Concert Hall
The Creative Arts Society is a thriving Austin based non-profit arts organization that actively promotes the development of the "Artist in Everyone" to expand artistic growth and diversity in our community.
Artist and Works list:
Lyle Adair- Soul
Brenda Armistead - ATX Parakeet
R J Armstrong- Rising Up of the Mangrove Swamp
Mary Barton- The Ocean's Moon
Kathy Berke -I Want You Blue
Kathleen Bogan- Untitled Portrait & Boy With Bowl
Helen Buck- Frozen Brook
Charlotte Clark- Afternoon Nap & Wind
Beverly Dennis - Park Study
Denise Elliott Jones- Stay & Always & Be Still
Jane Fier -Crowns of Gold & Brilliant Autumn
Tm Graves- Bar lll Moon
Ginger Grasley - Homegrown Fender
Carol Hayman- Trees Come to Life
Lisa Hollins-Angel Squared
Maria Lyle- Lilly
Shruti Mehta- Burbank
Maggie Miller-Up! & You Fill Up My Senses
Mozelle Marks - Trip to Market
Linda Montignani - Observation
Deena O'Daniel - Journey Sense of the Desert Hills
Gina Patino - Delicious
Scott Paxton - Mariachi Blues
Alicia Philley-Sunrise on the Creek & Creek Water & Sunset on the Creek
Jan Pomeroy-Yellow Poppy
Marilyn Rodriguez - Ocean Floor Beauty
Terese St Arnauld - Resting on A Table
Theresa Schlossberg - Arkanis
Mary Schwindt - Venice Reflections
Eva Sim-Zabka -Meet Me Where the Poppies Grow & Choice
Larry Thoren - Untitled Construction 2
Joy Timmons - Don't Let the Cats In & Emergence & It's the Berries
Cristina White Jones-Just Breathe
Lisa Zinna - Play & Reflect